To get you back into basketball, we are lucky enough to have Ebony Robinson running some skills session. Ebony currently plays for the Pakenham Warriors Big V women's team and played all of her junior years as an original Boldens team member. Ebony has also coached Rep and domestic for many years. In addition Ebony is also a Aussie Hoops coach.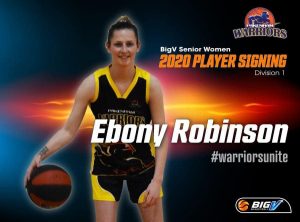 Due to Covid-19 restrictions, maximum 10 people per group
To cover costs there will be a minimal charge of $10 PER PLAYER.
We will send a confirmation email to you once you have registered. Once you receive the confirmation, you will be require to deposit $10 to the Boldens Bank Account to  hold your place. We wil provide banking details in the confirmation email
Tuesday 23rd June 
Under 10s Group 1 – 5.00pm to 6.00pm
Under 12's Groups 2 – 6.30pm to 7.30pm
Wednesday 24th June
Under 14's Group 3 – 5.00pm to 6.00pm
Under 16s Group 4 – 6.30pm to 7.30pm
Thursday 25th June
Under 12's Group 5 – 5.00pm to 6.00pm
Under 14's Group 6 – 6.30pm to 7.30pm
If these sessions fill, we may be offering further session through school holidays
To register: https://www.surveymonkey.com/r/boldensbacktoball